Yes you read right – I made a pizza with an unconventional main crust ingredient – cauliflower. I wanted to try this recipe as gluten free pizza crusts are so expensive to buy and they are often loaded with sugar. I also love a challenge and to try new and different things.
I never thought I would have this problem but I actually don't have a microwave – the recipe I used for this crust has an alternative though, to steam the cauliflower. However I don't have a steamer either (or anything that I can use as a steamer as my colander is plastic). Still desperately wanting to make this pizza I decided to use raw cauliflower. And guess what – it worked! So the crust stayed together and looked good, and the pizza tasted awesome!
I would love to say that I was clever enough to come up with this recipe by myself but I actually got it from Recipe Girl.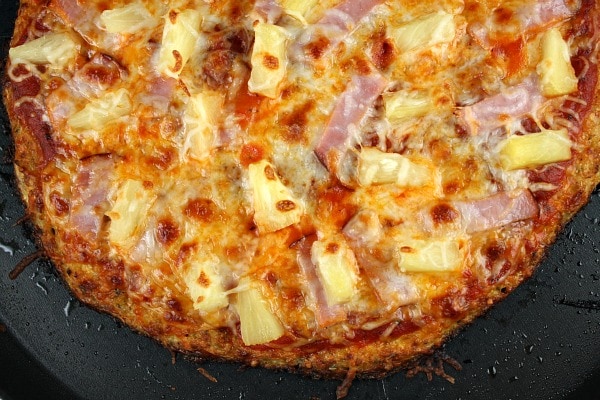 Ingredients
1/2 head of cauliflower
2 eggs
1 cup grated mozzarella
Salt & pepper
1/2 tsp minced garlic
1tsp dried herbs
Tomato paste or pizza sauce
Topping ingredients of your choice (I used onion, red pepper, mushroom, olives, sliced ham and more cheeese; mozarella and parmesan)
Method
Shred the cauliflower into small crumbles (either using a grater or food processor).
Preheat the oven to 450 degrees F and oil a tray very well (my pizza stuck to the bottom of my tray).
In a bowl mix the cauliflower crumbles with the eggs, mozzarella, salt & pepper, minced garlic and dried herbs.
Pat the "crust" onto the prepared tray and bake for 15 minutes (or until golden). Remove the crust from the oven and turn the oven to grill/broil.
Spread some tomato paste or pizza sauce onto your crust and then layer with your chosen topping ingredients (I fried onion, green pepper and mushrooms and placed on the pizza with sliced ham, olives and grated Parmesan and mozzarella cheese)
Place under the grill until cheese is melted and lightly browned
What unconventional meal have you recently cooked?
————————
Author Information: Petra Aitken, Australia
Petra Aitken was diagnosed with coeliac disease in late 2009. Soon after being diagnosed she started a blog, now known as Adventurous me,
gluten
free, as she could not find enough information on the internet about
gluten
free friendly places to eat in her home city. Since the blogs beginnings it has grown to include anything that helps those with
gluten
allergies or those cooking for people with these allergies to create and enjoy
gluten
free foods.