I am always looking for a way to make my current meal choices healthier. This not only helps my body, but it helps me to get out of a rut that I sometimes seem to fall in with foods.  I find something that I like and I like to eat it a lot.  Sometimes daily.  Tuna melts are one of those favorites.  In addition to limiting tuna to 2-3 times per week, I don't know that I need melted cheese & mayo on a regular basis.
Avocados were on sale this week when I went grocery shopping – 5 for $5.00.  They were the big ones, too, not the tiny ones.  I wanted to incorporate avocado into my lunch, but knew I needed more protein, so the avocado tuna salad was born.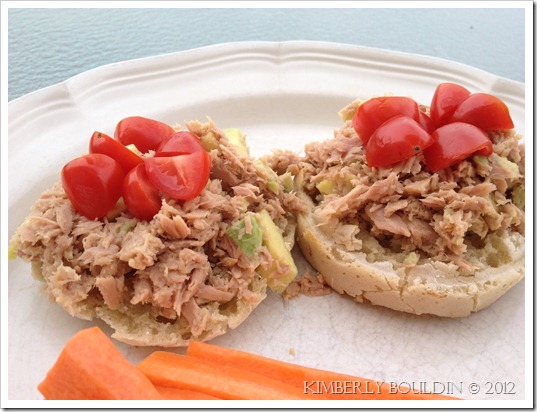 Ideally this avocado could have been a little riper, which would have made it easier to mush & mix up with the tuna.  Do you know how to tell when an avocado is ripe?  Gently squeeze a both ends to see if it gives at all.  If it is perfectly ripe, it should give just a little and be more towards a black/brown color, as opposed to greenish and hard when squeezed.
Healthier Tuna Salad
1 2.5 oz. package of tuna
1 oz. avocado
diced tomatoes or grape tomatoes (can be mixed in or placed on top)
squirt of spicy brown mustard
Sea salt
Fresh ground pepper
Serve on a freshly toasted English muffin, bagel, toast or vehicle of your choosing.  I used a Food for Life gluten-free English muffin.  If you are making more than one serving at a time, I suggest adding a dash of lemon juice to keep the avocado from browning.
This lunch kept me from eating an avocado straight from its package (skin).  Avocados are healthy for you, in moderation.  They have gotten a bad rap for a long time due to their higher fat content, but they shouldn't , because the fat in avocado is monounsaturated, which is the heart-healthy kind.  Additionally, according to this article, they might help to prevent certain cancers.
Do you like avocados?  What is your favorite way to eat them?
——————-
Author Information: Kimberly Bouldin, Columbus OH
My Gluten-Free Blog
Columbus Gluten-Free Food Examiner
Follow me on Twitter: www.twitter.com/kbouldin