If you are new to the gluten-free diet, you are probably just figuring out that it isn't just food that you need to check the gluten-free status of, but anything that could potentially end up in your mouth.  Some people have a skin condition associated with Celiac Disease called Dermatitis Herpetiformis and those people must avoid skin contact with gluten regardless if the product is going to come in contact with your mouth (digestive system.). I know that most of us adults don't intentionally eat health & beauty products, but I know that I have ended up with shampoo in my mouth and if your hand lotion contains gluten, that could potentially cause an issue.

I recently had the opportunity to try out two new ChapStick products:

*ChapStick does not contain wheat, barley or rye. No gluten is added to the product and it is not likely that the product contains gluten, but we can't guarantee the product is gluten free since the raw materials may have been derived from or exposed to gluten during the raw material manufacturing process.
More about the new products:
ChapStick® Sport Ready
Designed with the Active consumer in mind, ChapStick® Sport Ready offers advanced, on-the-go hydration fit for any adventure. The perfect accessory for people on-the-move,ChapStick® Sport Ready has a clip top that keeps your ChapStick® right at your fingertips. Sure to be the perfect partner for any game under the sun … or on the slopes, ChapStick® Sport Ready has you covered with broad spectrum SPF 30 and water-resistant protection for up to 80 minutes!
[amzn_product_inline asin='B008XKAX8S']
ChapStick® Raspberry Crème
Satisfy a thirsty pout with new mouthwatering ChapStick® Raspberry Crème – made with 10 moisturizing ingredients and a luscious fruity flavor, lips will be left feeling soft and silky. ChapStick® Raspberry Crème delivers fruity hydration to your lips with ingredients like Aloe and Vitamin E and contains SPF 15 to protect from the sun's UVB rays.
[amzn_product_inline asin='B008EXKOLK']
I loved both of these new ChapStick products!  I have been using the Sport Ready when I am out running and the Raspberry Crème daily to help keep my lips from getting chapped. The Sport Ready variety is sold for $2.59 – $2.99 and the Moisturizer Raspberry Crème is sold for $.99 – $1.99 in the cough and cold aisle at food, drug and mass retailers across the US.
Would you like a chance to win a prize pack from ChapStick?  The package includes: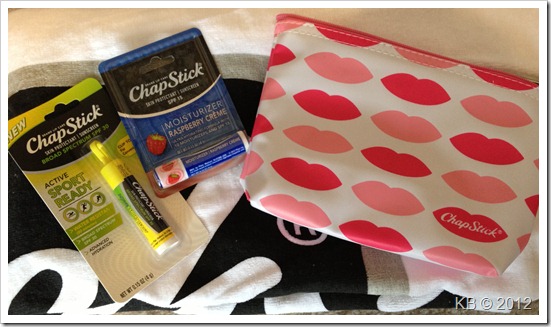 ChapStick beach towel

ChapStick zip bag

Tube of each new ChapStick variety that I reviewed here
All you have to do to enter to win is follow the instructions in the Rafflecopter box below. Continue reading ChapStick Giveaway
—————————-
Author Information: Kimberly Bouldin, Columbus OH
My Gluten-Free Blog: http://glutenfreeislife.com
Columbus Gluten-Free Food Examiner: http://www.examiner.com/x-15655-Columbus-GlutenFree-Food-Examiner
Follow me on Twitter: www.twitter.com/kbouldin
[amzn_multi_product_inline keyword='chapstick' count='6′ page='1′ sort=" category="]