Guess what I was doing the other day?  Browsing Twitter!  Imagine that?   I was instantly drawn to these Easy Cinnamon Muffins that Jo-Lynne shared.  I knew that Jon would love them, so I pre-heated my oven and got down to work.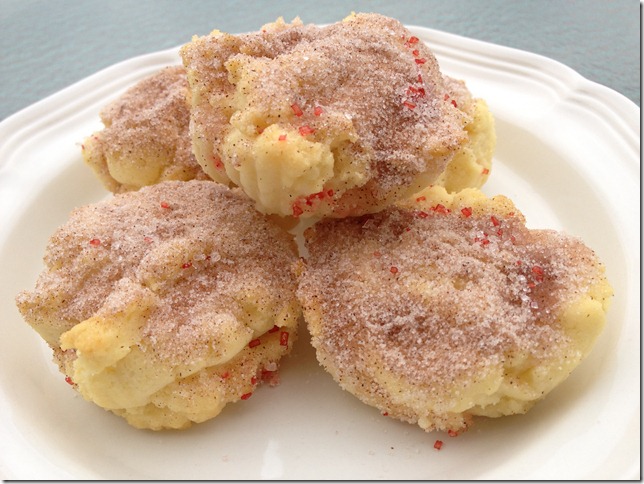 Jo-Lynne's recipe is not gluten-free, so I converted it to be gluten-free using Gluten-Free Bisquick.  Since the GF Bisquick already has leavening & salt in it, I omitted the baking powder & salt in her recipe.  Hindsight says that this may have not been the wisest choice, but the end result was fantastic, so I am not too worried about it.  Adding the baking powder may have made these a little more muffin-like, as they resemble biscuits, hence the name.
Cinnamon Sugar Biscuits
1 egg
1/2 cup almond milk (I used Trader Joe's Vanilla Almond Milk)
1 1/2 cups GF Bisquick
1/3 cup light olive or vegetable oil

Topping (this made a lot, so consider cutting in half or saving the mixture for future use)
1/2 tsp cinnamon
1/2 cup sugar
1.  Preheat oven to 400 degrees and line muffin pan with muffin liners.
2.  Beat egg in mixing bowl and then add milk & blend.
3.  Add GF Bisquick and mix well.
4.  Add in oil last and stir well to combine.  Batter will be thick; consistency is between cookie dough & muffin batter.
5.  Fill muffin tins 2/3 full and top generously with cinnamon/sugar topping.  I also added a sprinkle of colored sugar.
6.  Bake for 15-18 minutes or until toothpick inserted comes out clean.
To say that these were a success is an understatement; Jon inhaled them and wants another batch –STAT!  I asked him if they were more like coffee cake or a biscuit and he said biscuit, which is what I thought as well.  These are a great afternoon snack with a cup of coffee, tea or hot chocolate!
Kim
——————
Author Information: Kimberly Bouldin, Columbus OH
My Gluten-Free Blog
Columbus Gluten-Free Food Examiner
Follow me on Twitter: www.twitter.com/kbouldin