Do you ever put certain foods together that other people would cringe at? I used to have all kind of interesting combos when I was a kid: my Grandmas meat loaf, mashed potatoes, gravy & peas all mixed up and chili and mashed potatoes topped with cheese are just a couple that stand out in my head. My sister still eats one of her childhood favorite combinations – Doritos and applesauce. I don't think I have ever tried that, or not that I recall. I may have blocked it out. LOL! Anyway, I don't judge, as to each his own.
The other day I was craving a tuna melt. I meandered into the kitchen and started to pull out the ingredients to create my meal and realized I had no base for the melt. I had run out of my Food for Life English Muffins and Trader Joe's French Rolls. Clearly I was slacking in the gluten-free grocery department or eating too many carbs – maybe a little of both. I began to brainstorm about what I could use for the base. Did I want to bake? Not really. I just wanted to eat. I spotted my corn tortillas in the refrigerator and a light bulb went on – tuna melt tostadas! This turned out so good that I may be using this as a new standby in my lunch line up!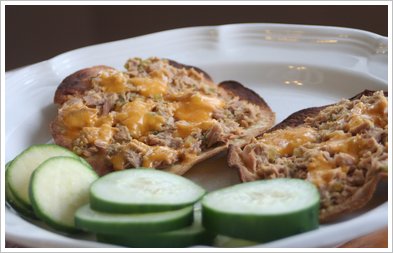 This turned out even better than I thought it would! I would absolutely make this again in a heartbeat!
Tuna Melt Tostadas
2 corn tortillas (most are gluten-free, but please double check the label to make sure)
Cooking spray
1 single serving pouch of tuna (I used the 2.5 ounce Bumble Bee)
1-2 tsp Hellman's Canola Mayo (says "gluten-free" on the jar)
1 tsp sweet pickle relish (I used Meijer – says "GF" on the jar)
1 squirt French's Spicy Mustard (Trader Joe's is good, too)
Cheddar cheese
Directions
1. Preheat oven to 375 – 400 degrees.
2. Combine tuna, mayo, relish and mustard. Set aside.
3. Place corn tortillas on a baking sheet that has been sprayed with cooking spray. Spray tops of corn tortillas with cooking spray.
4. Bake tortillas until they start to brown & get crisp.
5. Top tortillas with tuna mixture and cheddar cheese. Broil until warm & melty.
6. Enjoy!
You can mix things up and add other ingredients to your tuna mix – celery, Sriracha, Red Hot, etc. Be creative!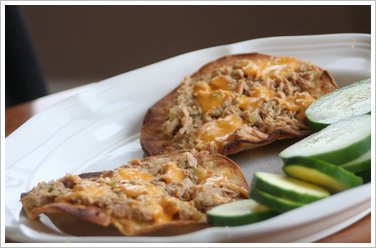 What is the weirdest food combination you have ever tried? Do you have one that you eat on a regular basis?
***************************************************************************
If you haven't already entered the giveaway that I am hosting along with 9 other bloggers, make sure to do that now! Click here for more info.
————————
Author Information: Kimberly Bouldin, Columbus OH
My Gluten-Free Blog: http://glutenfreeislife.wordpress.com
Columbus Gluten-Free Food Examiner: http://www.examiner.com/x-15655-Columbus-GlutenFree-Food-Examiner
Follow me on Twitter: www.twitter.com/kbouldin